This is a certain semester timetable.

Classes are held mainly on Monday and Tuesday mornings. Colloquium and seminars are held on Thursday and Friday mornings.
At other times, I do research. We also have weekly meetings and TA work.
I would like to introduce the (almost) weekly seminars held in our laboratory.
Seminar on solid-state quantum properties
This is a seminar mainly attended by members of the Solid State Quantum Physics Laboratory (people from other laboratories can also participate). Every Friday from 10am to 12am.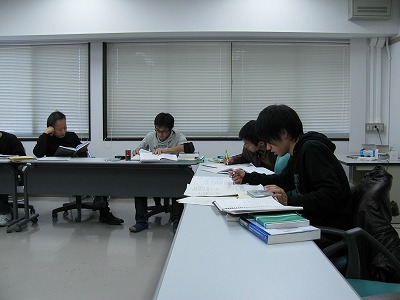 Solid-state quantum physics seminar. The person in charge of the week will make a resume and explain the contents of the textbook in detail.
Students decide which books to pick up each year, and students carry them around to make resumes and explain them. Rather than simply repeating what is written in the textbook, we explain formula variations that are not described in detail in the textbook, break down the contents of the formula and explain, and contents that are only briefly touched on. It is required to develop and explain the contents of the textbook in your own way, such as reading papers and digging into details and explaining the latest trends in related contents. Some are strong enough to make more than 20 pages of resume.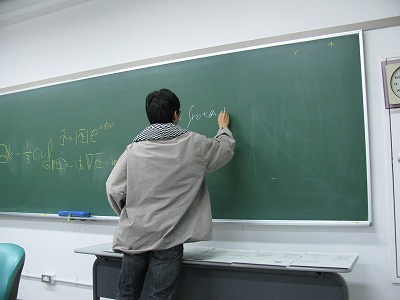 The textbooks we have picked up in recent years are:
2019
Kentaro Nomura, Topological Insulator / Superconductor (Maruzen Publishing)
2018
[First period] Kazuo Yamada, Satoshi Ohmi "Superfluid" (Baifukan) [Late] (1) PA Cox, "Transition Metal Oxides", Oxford university press[Late] (2) Tetsuro Inui, Yukito Tanabe, Yoshitaka Onodera "Applied Group Theory" (Sohkabo)
2017
Stephen Blundell "Magnetism in Condensed Matter", Oxford university press
Colloquium
It starts Thursday at 10am (not weekly). Students (and sometimes staff members) carry around (about once a year for each person), research and present what they are interested in. In recent years, it seems that there are many presentations related to my research.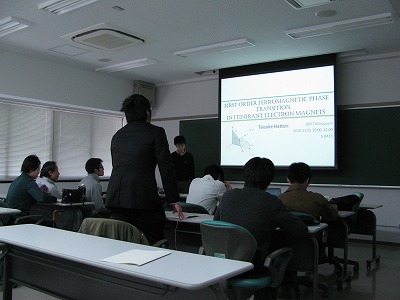 Colloquium. The person in charge of the week's presentation will look into the content of interest and make the presentation.
The main feature of this colloquium is that it is an English presentation . Basically, all presentations and discussions must be conducted in English. Especially in the early days, it was very difficult to prepare and make presentations, but when it comes to making presentations at international conferences, there are many times when I feel that it is good to have a hard time with Colloquium.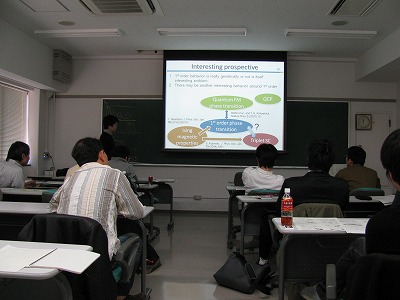 While seminars cover rather basic contents, colloquiums often cover the latest research status, so it is not uncommon for intense discussions to take place just like a research group. Surviving this discussion is one of the important experiences for researchers.
This day developed into a discussion using the blackboard.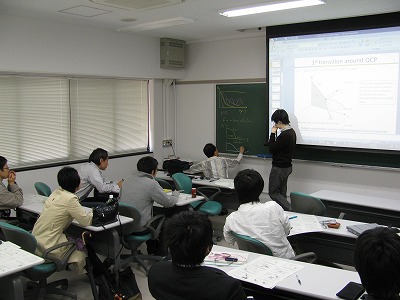 Graduate school lecture
Master's courses are often held in the mornings on Mondays and Tuesdays. Be careful not to oversleep.
I think that graduate school lectures are more focused on explaining the latest research results than undergraduate lectures. It is very useful to listen to lectures by teachers in other fields as well as in your own field.